My new app Watchover just went live.
Watchover lets you monitor what your kids are doing on their computers. It takes a screenshot every minute which you can browse from your iPhone iPad or iTouch.
You can also see what applications have been open, and when the computer has been running.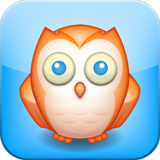 Just like watching your kids in the park, Watchover lets you keep an eye on them from a distance. So while the children are in their bedrooms, you can connect from your iPhone, iPod or iPad and view what they've been doing for the last few days – or see what is on their screens right now.
Watchover is available now in the appstore, and I'd love to hear your feedback.